AMBASSADOR JAWAD'S INTERVIEW WITH TIM WALKER
Tim WalkerBritish and Afghan troops standing side by side at Camp Shorabak, Helmand Province in Afghanistan to mark Remembrance together for the first time during a special parade.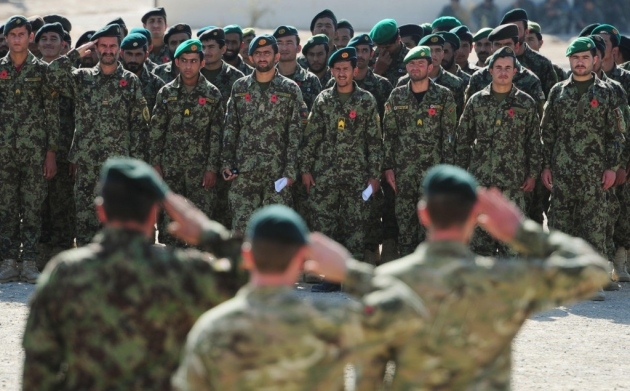 Afghanistan treasures its relationship with Britain, says its ambassador to the UK, Said Tayeb Jawad. Here he outlines his hopes that relationship will not be harmed by Brexit.
When Said Tayeb Jawad, Afghanistan's ambassador to the United Kingdom, woke to the news that the country had voted for Brexit, he knew that his job was going to become a lot more challenging.
"Of course, I respected the decision that was made, but my concern was how the policy was going to be interpreted," he says, choosing his words with some care. "Britain has a long relationship with Afghanistan and I was absolutely determined that it would continue."
There had been headlines during the referendum campaign about foreign aid and migration, but too rarely, he felt, had the obvious connection been made between the two.
"Migration is caused when countries become intolerable to live in, and, clearly, the sustainable way to address this is to help countries maintain their security. The cost of people fleeing conflict zones in vast numbers, and turning up on Europe's doorstep wanting help is, of course, infinitely greater. Foreign aid is therefore a good investment for all of us."
Jawad's country has been in the news a lot over the past few weeks as a result of a succession of acts of terrorism that have killed hundreds of civilians. He says that, while they have been profoundly distressing, they actually show that the Taliban is in desperate straits.
"They accept they can no longer win a conventional war against our soldiers and our western allies, and so they are targeting civilians. Despicably, they are killing women and children and people involved in charitable work. They even exploded a bomb in a crowded street in a vehicle that was disguised as an ambulance. They must know that in committing acts of such depravity they're hardening the resolve of ordinary Afghans against them."
The ambassador, speaking to me in the Afghanistan Embassy, which overlooks Hyde Park, was delighted that Gavin Williamson, the Defence Minister, visited his country this month and reaffirmed that its security and stability remained "top of the UK agenda". Jawad is profoundly grateful to the 650 British troops who are currently contributing to the international efforts to secure his country.
It is a painful task, but he makes a point of trying to contact the families of all those who have lost their lives fighting in his country. "There is a real sense of gratitude in Afghanistan to each and every one of them and we regard them as heroes. It is important that the families know how grateful we are to them."
He adds that the emphasis is now on getting Afghan soldiers to continue the fight themselves. "There is no shortage of courage among them, but what they need is continued training and resources. Every time I visit Sandhurst, where our officers are being trained, I emerge with confidence that soon my country will be able to stand on its own."
The urbane 59-year-old career diplomat is hopeful that Brexit will not result in any weakening of British resolve when it comes to his country. "Fortunately, most of our relations with the UK are bilateral and not directly via the EU system, so the effect that Brexit is likely to have on that will be minimal," he says.
He's keen to get the message out that normal life goes on in Afghanistan, even though he mostly only hears from British news organisations when there has been bloodshed in his country. "Nobody ever reports on, for example, the skiing competitions we have. We take our cricket very seriously, too, and we are thrilled that we will be in next year's cricket World Cup after our team did so brilliantly in Harare. Our All-Women Orchestra just received the Polar Music Award in Sweden, and it is my hope to bring them over here this year."
Jawad trained as a lawyer in Berlin in the 1980s, when the wall split the city, and it worries him the wave of populist politics in the west is causing more division. "A lot of populists are going on about how good things used to be. A real leader talks about how good things will be. You may also be able to mobilise people by phobias of one kind or another, but you can lead only by having a vision that unites."
Donald Trump may not obviously fall into this category, but, for all that, Jawad says that the incumbent president has so far been helpful to Afghanistan. "He recognises it is not in America's interests – nor that of any other western country – for the Taliban to be allowed to gain any grown at all. The troops President Trump has sent to the country show his resolve."
Jawad was Afghanistan's ambassador in Washington during the second President Bush's term of office and was impressed by the commitment he showed to the country, as well as that of his wife Laura. "Laura has many admirers in my country, and remains committed to helping our universities and empowering women. She was a teacher and that is why she is so passionate about literacy and education. We have nine million of our children going to school in Afghanistan, but of these only 35% are girls. That is not enough, and we are determined to increase that figure dramatically. Education is the foundation of gender equality."
He was less impressed with President Obama, who announced a timetable for the withdrawal of American troops from the country, which, Jawad felt, only served to boost the morale of the insurgents. The ambassador judges people by what they do, rather than by what they say, but he admits that the Islamophobic language that has been used by some western politicians has concerned him.
"I think that it is short-sighted to stir up hatred against people on the basis of race or religion. The British are traditionally tolerant where religion and race is concerned. When they hear of an individual story – and I think of the piece I read recently in The New European by Mohammed Anil Qasemi, a young student in Kabul who returned to university after being terribly injured in a terrorist attack – then suddenly we all become emotionally involved."
He says he is determined to provide the young generation in Afghanistan with the kind of opportunities he has had and he wants to see the country become more open to the world.
"Afghanistan was historically a great hub of trade and commerce. At the moment, it is not easy to either leave or to enter it, and that is not a healthy thing. We suffered when our neighbours – Russia and China – essentially blocked off trading routes we once relied upon. We yearn to become a contributing member of the community of nations again. We want to pay back all those – not least Britain – who have helped us so much."
Jawad has spent a large proportion of his life working outside of his country, but is adamant he will retire to Afghanistan. "I love my country, I believe in it and it is my home. I would like to go back there after this posting and serve in some way as I believe our president Ashraf Ghani is taking the country in the right direction. I am confident Afghanistan will become a stronger; safer and more prosperous nation, but for that to happen, we need the West to help us see through our current challenges. Our politicians – and the things that make the front pages – come and go, but, you know, our common humanity prevails and it is what gets us through."