FRAGILE ACCOMPLISHMENTS OF AFGHAN WOMEN
The Honorable Secretary Dobriansky,
Dear Friends,
Ladies and Gentlemen,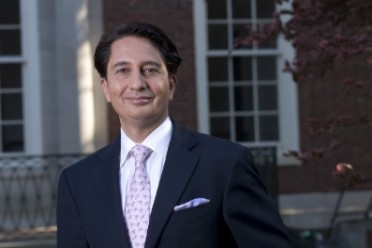 Thank you for inviting me to be with you today. Please allow me to convey my sincere gratitude for your compassion and support of gender equality and women's rights in Afghanistan. We are very grateful for your interest and the support of Reuters.
Paula, thank you for your continued leadership in various positions, as well as your sincere commitment for global women's rights and pluralism. Today, I will speak briefly about the Afghan women, and their significant accomplishments and serious challenges.
Afghan women have come a long way, but they are not yet out of the woods. Under the gender apartheid of the Taliban, women were deprived of every basic human right. They were even forbidden from wearing bright colors, and Afghan children were denied the innocent joy of flying a kite. Today, Afghans enjoy more political, economic and social freedom than at any time in the history of our country. Among all the achievements, I think, nothing is more beautiful than the sight of Afghan school girls in their black and white uniforms, attending class under a tree in a small village.
Over the past eight years, with direct assistance and support from the United States, we have been able to improve the socioeconomic conditions of women. We have successfully enshrined gender equality and women's rights into all our new laws, enabled women to participate in politics and the workforce and worked hard to deliver universal access to education and health care. With gender equality in mind, we established key institutions of civil society and democratic governance; including a new, progressive constitution, independent judiciary and parliament, a powerful human rights commission, an electoral system, a national army, a new police force, political parties, free media, and mechanisms for political reintegration and disarmament of the militias.
Consequently, Afghan women have acquired powerful voices; however, they are still underutilized agents of fundamental cultural changes in our traditional society. We have not delivered on all the promises that we collectively made to the Afghan women.
In the political realm, women have made significant gains since the Taliban era. Many have entered political life at the most senior levels: as presidential candidates, senators, ministers, governors and ambassadors. Still, deteriorating security conditions have prevented women's full participation in the society; especially on the countryside and in the south. However, the political and social gains of Afghan women are still fragile and require sustained support and attention by the international community and friends like you.
For instance, there is increased pressure for reconciliation and reintegration with the Taliban, a complex, highly sensitive and emotional issue for many Afghans, especially women and minorities in Afghanistan, who have not forgotten the brutality of the Taliban regime. While many citizens prefer the Afghan Government's reconciliation efforts over continued war and violence, according to the Asia Foundation's recent survey, Afghan women and civil society do not want reconciliation to be a blank check for amnesty of past crimes or a license for future atrocities and oppression. In particular, women are concerned about the extent of compromises being made in order to bring the Taliban back into the political fold. We are hopeful that by working together with all Afghans and our allies we will be able to develop acceptable mechanisms to build national consensus on reconciliation with the Taliban without making costly compromises on the principles of our constitution and the hard-earned basic human rights and principles of justice and equality. A Conference next month in Kabul will debate this issue.
Clearly, Afghan women are agents of democratic changes, yet their full potential still remains untapped. In order to fully materialize potential, we need to further invest in education and economic empowerment of Afghan women.
Changing the laws is the first and relatively easy step. We have taken this step; it is not sufficient. Without access to quality education, financial credit and business skills, laws alone cannot fundamentally improve the quality of life for women. In most cases, cultural impediments are preventing women from fully realizing their dreams and potential. Culture cannot be gradually changed with laws and decrees; only quality education can change repressive culture. We are developing economic opportunities for women in Afghanistan by providing them access to credit, business skills and mentoring to expand access to information and skills.
For example, the Afghanistan Small and Medium Enterprise Development Program is active in challenging areas such as the Helmand and Nangarhar provinces. In 2008 and 2009, this program helped train female business owners of small and medium enterprises in marketing and improved productivity, and it helped them better compete in local and regional markets.
Joining hands and networking among women is crucial for the success of their businesses. In the past two years, 27 new, all-female business associations were established to provide advocacy and networking facilities to their female constituents. These associations received start-up and bridge grants to build the basic infrastructure of their organizations. USAID continues its financial and technical support to the Afghan Women's Business Federation, an umbrella organization for approximately 87 women's associations. More than 70,000 women have started small and midsize businesses with the help of micro-finance. We are working to further enhance the capacity of these young institutions to deliver better services to Afghan women. Despite these accomplishments, the personal security of all our citizens is not yet fully safeguarded, and terrorism, illiteracy and acute poverty continue to threaten Afghan citizens, especially women, the frailest segment of a post-conflict society. The achievements of Afghan women are numerous, but their challenges remain serious.
We know that women's empowerment is intrinsically linked to security, economic development, political participation and good governance. Afghans have enthusiastically participated in the political process and the presidential and parliamentary elections. Women constitute 27% of our new, dynamic parliament. Many women risk their lives to run for parliament or public offices and participate in government. Female candidates and female teachers in the south face particularly serious security threats. The government is working to increase its capacity to deliver services and provide better protection to its citizens.
The key to gender equality is education. School enrollment has increased close to 700% in comparison to 2001. 6.3 million children, 35 percent of whom are girls, are now going to school. More than 50 million textbooks are published, and 3,200 schools have been built. The quality of education, however, still needs improvement. Five million children, the majority of them girls, still cannot go to school due to insecurity or lack of infrastructure.
While conditions for women in Afghanistan have improved markedly since the fall of the Taliban, Afghan women are still among the most socioeconomically disadvantaged in the world. Female literacy is estimated at 20 percent. While girls' school enrollment has skyrocketed in the last few years, there are still one-third fewer girls than boys in primary schools.
Afghan women were prime victims of poverty or lacked access to health care. Today, access to basic health care has increased from 7% under the Taliban to 80%. With your assistance, we built over 700 clinics and dozens of hospitals. But further improvement is needed despite our advances. Afghanistan has the world's second worst mortality rate, and the fifth worst neonatal mortality rate. Every year, 18,000 women die from complications of pregnancy. We are training hundreds of community health workers and midwives. More than one million children suffer from malnutrition and post-trauma syndromes.
For a number of our accomplishments, we are particularly grateful to the former First Lady of the United States, Mrs. Laura Bush. She has been a great friend and supporter of Afghan women and children. She is the honorary co-chair of the US-Afghan Women Council. My friend, Paula Dobriansky, is a force behind this Council that was established to realize our shared vision of building a pluralistic and civil society in a constitutional state which guarantees the safety, security and civil liberties of Afghan women and children. Support from the US-Afghan Women's Council has been crucial for education and health care in my country.
We are also grateful to Secretary Hillary Clinton and Ambassador-at-Large for Global Women's Issues, Melanne Verveer for their longstanding support. I would like to once again thank Paula Dobriansky for her personal commitment and her love and compassion for Afghan women and children.
Ladies and gentlemen,
Recently, I attended a graduation ceremony for 15 Afghan businesswomen in Arizona. This magnificent group of smart and diverse women entrepreneurs included the owner of a construction company, a fashion designer, a professional basketball coach, and a fitness center owner. One graduate, who has built a business making hand embroideries, employs more than 500 women in Kandahar. She said, and I quote:
"We Afghan women have taken it upon ourselves to stitch a future of peace for our children. Embroidery is the skill we have, and love and patience is what we can give to our families and our country."
Like a precious Afghan embroidery, many hands and different colored threads are working together to restore the fabric of our society and recreate a vivid and lasting image. Together, we have changed the lives of so many Afghan women, and they in turn changed the world around them.
The former First Lady of the United States of America, friends in US media and Congress are joining hands with young girls of small remote villages in Kandahar and Bamiyan to build a better future for Afghans, for women and for all of humanity.
You can all help by raising awareness, creating scholarships for young women, supporting micro-financing, literacy programs, and mentorship programs of Afghan businesswomen.
Afghan women need your continued friendship and are grateful for your support. With partners and friends like you we will succeed.
Thank you.